When Harbour approached us to make a film for them; we had some pretty big smiles in the office. We were already familiar with the product, infact, we loved the product. We also loved their already great brand positioning, to us, we couldn't have asked for a cooler beer company to work with. Their brief was simple. They wanted an introductory film that helped to define the core elements of the brand – and they didn't want it to be a product placement advert.
Having met with the Harbour team at their factory located on Trekilick farm in North Cornwall, and having had the pleasure to sample a variety of their excellent craft beers, it was clear to Beast the direction we wanted to take.
Harbour is establishing a 'culture'. Their factory has a custom built skate ramp which most of the crew use during the lunch hour. There is a dusting of surfboards around the office which are all well worn, and usually still wet; and with an approximate length of 80 meters between the hop room and the fermentation tanks, skateboards are the choice of travel. In a corner of the factory sits their 1963 Chevy Corvair Rampside Pickup which they use for local deliveries. On a sunny day with a few more added palm trees in the forecourt we could have been in California. It was clear to Beast that Eddie wanted the lifestyle outside the work place to be brought into the work place. He doesn't want people leaving their pleasures at the door when they come to work. He believes this makes a difference at Harbour, because they don't brew beer as a job, they brew as an extension of the life they are living. We are  convinced this is what gives Harbour its magic dust.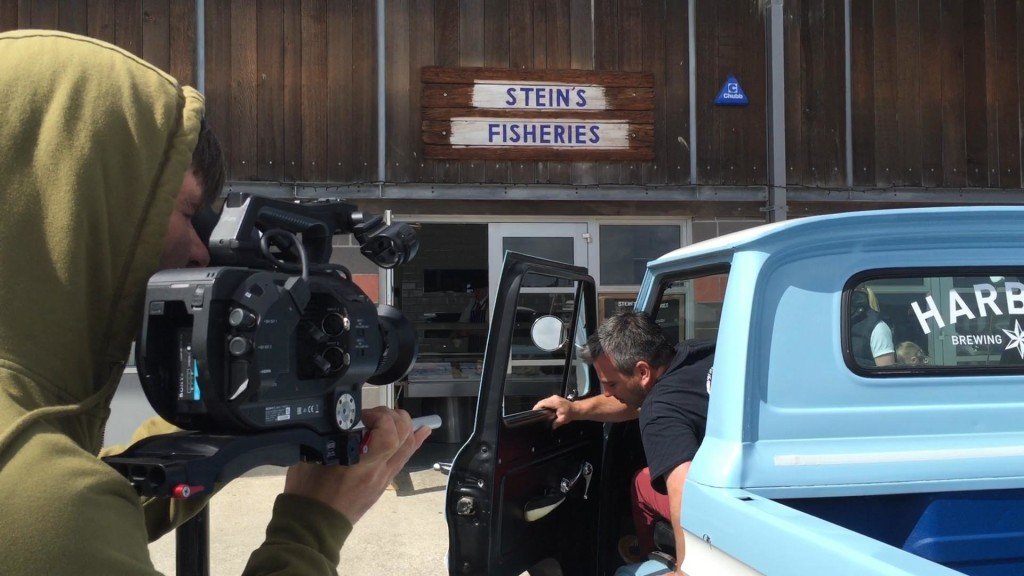 Beast went about creating a storyboard that was based around lifestyle as a theme. We wanted to show the factory, and parts of the process, but we ultimately wanted to create a story that reflected Eddie's love for Cornwall, and how Harbour have brilliantly blended work and pleasure. Inspiration is key to the Harbour story. It was important for us to capture lots of huge landscape shots and rugged coastline while capturing the key aspects of their daily routine. Flavour is also another important key word for Eddie. He loves to talk about food as much as beer, and how the two go together perfectly in so many different ways. We wanted to reflect the experimental flavors and techniques that go into each brew. To achieve this we chose a rugged location on the beach, using a BBQ and fresh simple ingredients to really highlight the authenticity of the product, the process and the brand.
The craft beer market is now an extremely competitive one. Harbour have shown their spirit in being the pioneers for video content in this category. This really is just the tip of the iceberg for Harbour, and we can be certain the trend they are setting here, will be quickly followed. To see the work in situ visit www.harbourbrewing.com